Moderators: Chris Slack, AchimbaProphet, Desert Mermaid, Adremelech, Seattle Metal Online
Posts: 6189
Joined: Mon Oct 15, 2001 10:00 pm
Location: The American Gardens building on West 81st St.
Contact:
GRAVENLOCH CD release show
featuring
Fallen Angels
Sikend
Avulsive
8:30pm
$8 (PM me for tickets)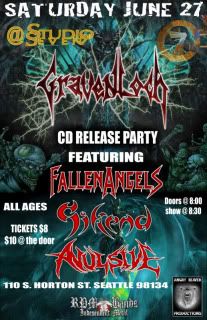 I have to return some videotapes.

Fallen Angels new CD "Rise From Ashes" available now from [url=http://www.metal-on-metal.com]Metal On Metal Records,[/url]. Visit our Myspace page [url=http://www.myspace.com/fallenangelsthrash]here[/url] for samples.

[url=http://www.tulalipchampionshipwrestling.com]TCW - Tulalip Championship Wrestling[/url]
---
---
Posts: 2418
Joined: Fri Apr 04, 2003 1:43 pm
Location: shoreline wa
Contact:
Was a great show!
I say we take off and Nuke them from orbit. It's the only way to be sure. -Ripley
www.facebook.com/AfterTheFallout

[/B][/color] I'm an Evil Mutherfucker Joe...
Ask The Magic 8 Ball: [url=http://av.vet.ksu.edu/flash/8ball/]http://av.vet.ksu.edu/flash/8ball/[/url]



RIP Kurt.......NME will always hate us.
RIP Paul Keep hitting the high notes...
RIP Mudd Bookin' shows on the other side.
RIP Geri, You'll be so missed. Such a great lady.
---